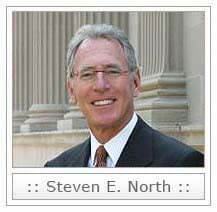 A Case Is Only As Good As The Lawyer Who Represents You!
New York Super Lawyers - 2008 to present
Top 100 Attorneys In New York Area, New York Times, Super Lawyer Section
Steven E. North has devoted the past thirty-five years of his career litigating major medical malpractice, legal malpractice, products liability and severe personal injury cases. He has successfully tried hundreds of such cases with numerous multimillion-dollar verdicts to his credit. Mr. North has been selected by the New York State Bar Association to author the Medical Malpractice chapter for the 2012 edition and 2021 2nd edition of its Personal Injury treatise.
Many cases handled by Steven E. North P.C. have been featured in The New York Times, the New York Daily News and national law publications along with commentary by Mr. North. He has appeared as a legal expert on Court TV, Eyewitness News and other television news programs, written several volumes of a treatise on medical-legal issues, served as editor of the Cancer Litigation Bulletin, and written more than twenty-five articles that have been published in respected professional journals, including the New York Law Journal and the Journal of Perinatology. In addition, he has served on the visiting faculty of several law schools where he lectures on trial practice.
Mr. North graduated from New York University School of Law with an LL.M. degree and from Brooklyn Law School where he earned a J.D. degree. He is admitted to the bar in New York, to the United States District Courts and to the Supreme Court of the United States. He is listed in New York Magazine's "The New York Area's Best Lawyers", The New York Times Annual Supplement's "The New York Area's Best Lawyers" and similar publications. Mr. North has been named in The New York Times Supplement as one of the Top 100 Lawyers in New York City.