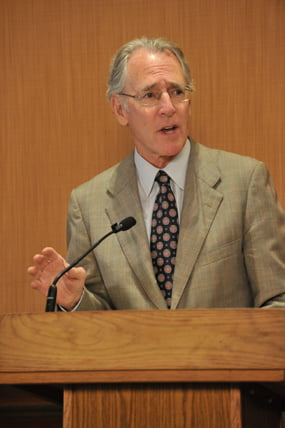 Sitting in his office in a townhouse on the upper east side of Manhattan, Steven E. North reflects upon his career as a litigator. Having been recently advised that he achieved one of the highest verdicts in the State of New York, he feels satisfied that, professionally, he has achieved all that he has set out to.
His record breaking verdicts have landed him recognition in the Million Dollar Advocates Forum, Who's Who in America, New York Law Journal and listings in numerous other publications including the recent edition of New York Magazine's, "The New York Area's, Best Lawyers" and The New York Times.
Mr. North has also ventured into the realm of academia. He has authored three volumes of a legal text, written over twenty-five professional articles that have been published in legal and medical journals and has been on the visiting faculty of a number of law schools. He has been invited to make grand rounds presentations to physicians at major teaching hospitals.
Mr. North prides himself as having worked continuously ever since he was fifteen years old. He was employed as a clothing salesman in Harlem while attending City College of New York, worked as a lifeguard in the Catskill mountains during law school and has held such jobs as elevator operator, factory worker, waiter and parking attendant.
Following his initial training in litigation as a homicide prosecutor in the Manhattan District Attorney's Office and then having served as a Special Assistant Attorney General and Bureau Chief heading anti-corruption investigations and prosecutions, Mr. North entered the world of civil litigation.
Not long thereafter he was made a partner in one of the largest New York personal injury law firms, where he saw a high level of client dissatisfaction because of the revolving door practice of ever-changing associates handling their cases. In 1986 he decided to open his own law firm that would be dedicated to providing the appropriate sensitivity and attention to its clients, many of whom are overwhelmed by their suffering from devastating injuries. He prides his office as treating clients as people and not as cases.
Although he has a generous size and well trained support staff, he remains personally involved in every case. He knows his clients intimately and they all have access to him. When requested, Mr. North tries to provide assistance beyond the requirements of the case by guiding his clients in other areas that affect their lives.
Mr. North feels a moral responsibility to hold not only doctors accountable for their actions but any professional who has been negligent. Consequently, unlike some of his colleagues, he has no compunction against handling legal malpractice matters where other lawyers have negligently mismanaged cases.
Early in his career as a personal injury litigator Mr. North felt that perhaps he was engaging in a specialty of law that was not viewed as favorably as others. He now feels quite the contrary. He proudly states that practicing personal injury law is one of the few opportunities that an attorney has to dramatically, positively and directly turn around the life of a client. Although there is often a mercenary connotation associated with awarding money for injury and loss of life, Mr. North explains to juries how one cannot give back health or life. The only way our system can balance such a wrong, he says, is to try to provide the injured person or family with a fair sum of money to restore some of the dignity and independence that they lost. For example, he recently asked jurors sitting on a case involving a woman who had to have her leg amputated as the result of medical malpractice, to include in its award ample funds to allow the woman to have a driver and vehicle available. The jury did.
Mr. North is married and has two daughters and four grandchildren. He spends his spare time with his family in the Hamptons, riding his motorcycle, playing golf or scuba diving. He is an Eagle Scout, member of Mensa, has served on the Board of Directors of the Lotos Club, a private cultural club in Manhattan and has served as a President of the Coop Board of his apartment building in New York City.
According to Mr. North his greatest satisfaction is not in the personal achievements that he has obtained but rather the appreciation that has been expressed by his clients. He has an endless collection of unsolicited letters from grateful people who he has helped.
Mr. North emphasizes that "reputation, experience and integrity cannot be bought. It is the product of hard earned dues paid by sweat and sacrifice. "You cannot pre-pay your dues", he said. "It is part of your daily life". He continues to work long hours, making sure that no case has any stone that has been left unturned.
His clients are those persons who appreciate the luxury of having personal and skilled attention to their cases by a top notch attorney who is highly regarded in his field. "Your Case is only as good as the lawyer that represents you" he emphasizes.